The images in "North America" and "upstate" are at once independent portfolios and also function together as a visual synthesis of macro and micro, public and private, narratives and spaces.
All photographs are created using a 7" x 17" ultra large format view camera with black and white film.

---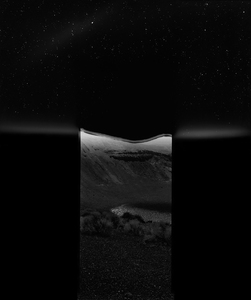 OBSERVABLE UNIVERSE, NEAR AND FAR, North America
In astrophysics the "observable universe" is recognized as a celestial sphere containing all matter that can be presently viewed from Earth. As humans, we make conscious and unconscious decisions as to how far we attempt to consider what is beyond our immediate environments of the natural and constructed world. Drawn from both documentary and speculative viewpoints, the images are a meditation reflecting our rapidly changing scientific landscape of now that is constantly threatened by our planet's current political and environmental state with a focus on the depletion of one of the most primal natural resources, the night sky.






---

OBSERVABLE UNIVERSE, NEAR AND FAR, upstate
Nestled between an IBM manufacturing plant and a quarry, the land and neighborhood of my family's home since 1966 is like many of those in the towns along the Hudson River with a long history of industrial pollution and environmental degradation. The synchronized timing of the quarry's twice -daily blasts sent tremors throughout the neighborhood; even at my school. My dad, who worked at that manufacturing plant for 36 years, recently died of cancer and having survived my own life interrupting diagnosis, treatment and recovery at 36, I was left in an unbearable state of pain and loss.

With a need to reconcile my relationship to the environment into which I was born, I took cognitive refuge under the dark cloth of my 7 x 17 inch view camera walking for miles in the neighborhood, quarry, and the plant. Recalling the American film "Powers of Ten", funded by and made for IBM, which was intended to give the viewer a cinematic visual of scale and distance I embraced the idea of a scientific or mathematical model as the basis for viewing the world while working in the reality that the environmental state of our planet is under constant threat. This allowed for a temporal investigation between macro and micro to create black and white photographs emulating cinematic film stills of personal history.

In 1982 at the age of 7, I began making a color photographic record focusing on the industrialization lining the Hudson River Valley from Clinton Point to South Troy in upstate New York. These images are offered alongside the black and white work as an anthropological foundation contributing to the visual narrative of this series.

All black and white images in this series are created using a 7" x 17" ultra large format view camera and sheet film which is then hand developed, by me, in open trays in a completely dark (no safelight) room. The negatives are then contact printed in what is now commonly refered to as a "traditional wet darkroom." The color images were created using an Instamatic camera with 126 film cartridges and developed at a local color lab in Poughkeepsie, New York between 1982-84.