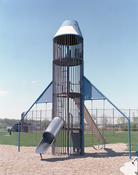 ROCKET SCIENCE
The Cold War era rocket ship playgrounds throughout North America. Images made with an 8 x 10 inch view camera.
---

OBSERVABLE UNIVERSE, NEAR AND FAR
In astrophysics the "observable universe" is recognized as a celestial sphere containing all matter that can be presently viewed from Earth. As humans, we choose how far we want to look beyond our immediate spaces of the natural and constructed world. These images offer a study of distance, light, and time while drawing parallels between the immediate spectral environments in which we exist and the scientific astrophysical landscapes devoted to the exploration of the most distant and ancient light from the edge of the universe.
All photographs are created with a 7" x 17" analog film view camera.
---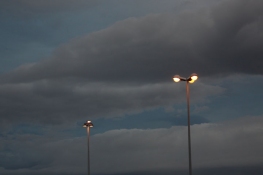 PLANET LIGHT POST
A ongoing photographic study of how we choose to illuminate the atmosphere and our immediate surroundings. United States, Germany, Iceland, and Japan
---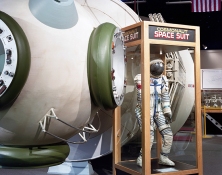 COLLECTIVE SPACE
Observations made throughout the United States using an 8 x 10 view camera. Ongoing
---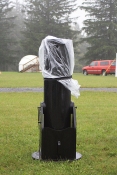 18 TELESCOPES
---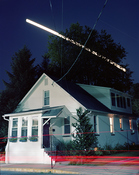 MOON STUDIES - MOTION PICTURES
"The light streaming down from the moon has no part in the theater of our daily existence. The terrain it illuminates so equivocally seems to belong to some counter-earth or alternate earth. It is an earth different from that to which the moon is subject as satellite, for it is itself transformed into a satellite of the moon." -Walter Benjamin This series of photographs is an ongoing study of time through the observation of moonlit spaces located throughout the United States and Japan. The images are made with an 8 x 10 inch view camera and are achieved by exposing an individual sheet of film for a duration of time ranging from 22 minutes to nearly 3 hours.